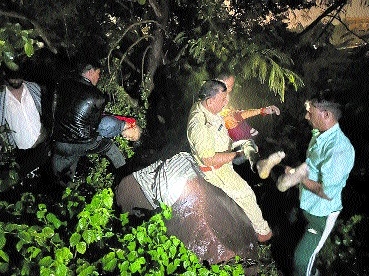 The cops brought down the bodies and rushed them to hospital for post-mortem.
Staff Reporter :
The girl had been missing since Wednesday from her hometown Narsinghpur
Police suspect they ended lives as their families were opposed to their relationship
The bodies of a young couple were found hanging from a tree in forests near Maida Mill area. Police said that the deceased were identified as Dharmwati Lodhi (21) and Devendra Lodhi (20), both residents of Ata Pipariya village of Narsinghpur. Police said that the girl was missing from her home since September 13. The cops said that the girl was wearing Sindoor which indicates that she had married Devendra before they ended lives together. On the other hand, their family members have claimed that the youth was working in Indore while the girl was living in her home. They said that the girl went missing on Wednesday and on Friday night they were found hanging.
According to police the bodies were spotted by a few children on Friday evening who alerted the locals. A resident of the area Zubeir Qureshi informed police about these bodies. ASI Singh said that they found the Aadhaar card of the girl inside her bag. Her clothes were also inside the bag, he added. There was cash around Rs 30 in the pocket of the youth, added the ASI. Police suspect that the girl first married Devendra and then they took the extreme step together. As the cops have not found any suicide note they were unable to conclude as what drove the young couple to end their lives together. Two ropes have also been found at the scene which suggests that they had already decided to end lives. The bodies were handed over to the relatives after post-mortem and an investigation is underway, said the MP Nagar police personnel. SHO Jitendra Singh said that the statements of their family members were yet to be recorded. However, it appears that their families were against their marriage due to which they ended their lives, added the officer.