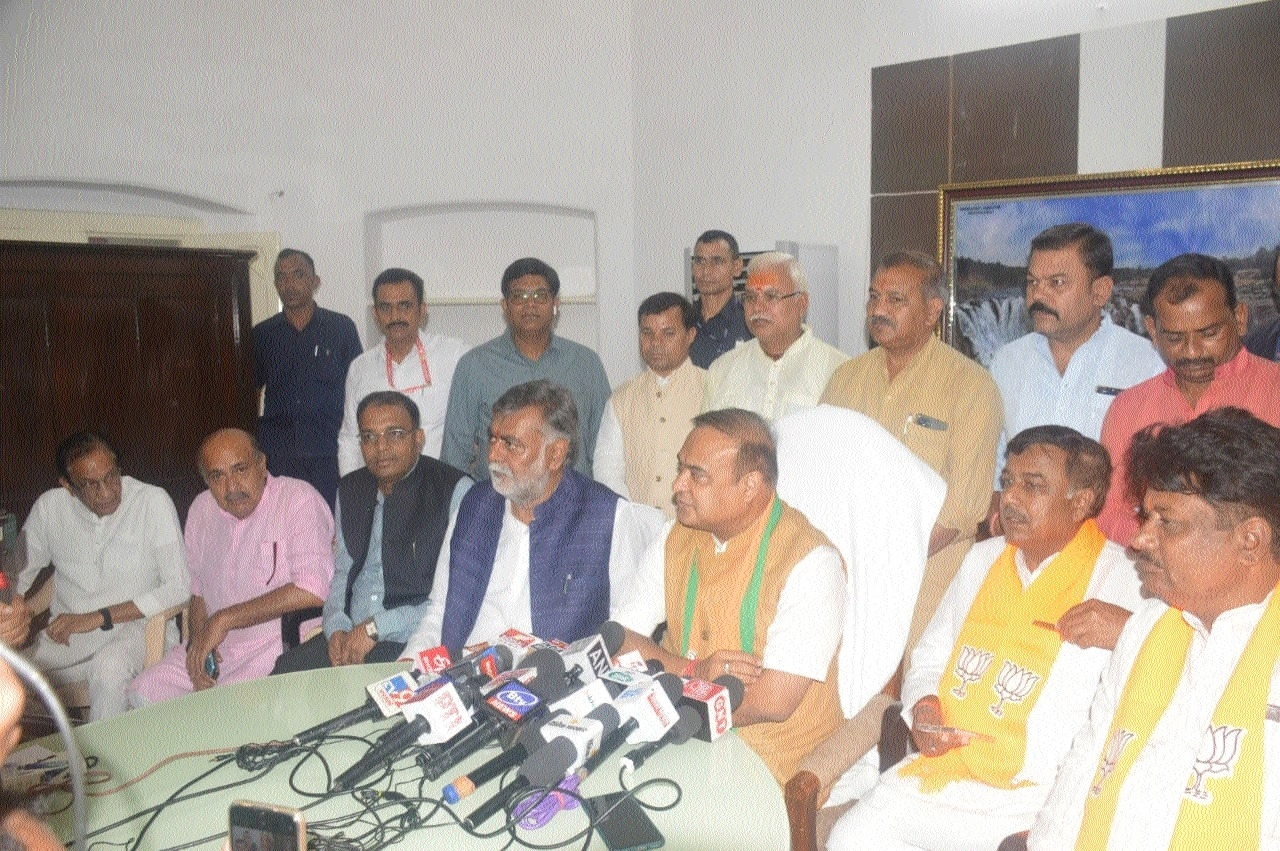 Assam Chief Minister Himanta Biswa Sarma addressing a press conference while other senior leaders look on.
Staff Reporter :
Assam Chief Minister Himanta Biswa Sarma while addressing a press conference, on Saturday said the remarks made by Udaynidhi Stalin on Sanatan would have created an uproar if they were made towards other communities. Since we are tolerant it is called freedom of speech. Sarma, who was in city to participate in party's Jan Ashirwad Yatra, underlined that even today it is the Hindus who are chanting slogans in support of Rahul Gandhi. He termed it an opportunity for Rahul Gandhi to become champion of Hindu hearts. Sarma said Gandhi should ask Stalin and DMK to tender apology on their statements. He asked him to demonstrate commitment to Hindu voters through meaningful actions.
CM Sarma said the Congress has already divided the nation. Referring to imposition of Emergency in 1975 when the media was banned, he said the current boycott of 14 TV anchors by I.N.D.I.A is rerun of their past actions. The Assam Chief Minister stressed that with formation of INDI alliance, electoral dynamics have changed in three states. Elections are now no longer a contest against Bharatiya Janata Party, but a battle against a centuries-old Sanatan Dharma. On Congress' statement that Chief Minister Shivraj Singh Chouhan has become an old face, Sarma said Congress leader Kamal Nath is a tired face, on which the Congress is betting in Madhya Pradesh. He said with BJP's return to power in Madhya Pradesh, there will be resurgence in development and progress. He praised Chief Minister Chouhan for his inclusive governance, stating that the Madhya Pradesh Government is implementing numerous schemes for upliftment of all sections of the society. Furthermore, Sarma applauded Prime Minister Modi for elevating India to a global superpower. He said if by mistake the Congress comes to power under prevailing environment, then similar situation will be create in entire country like in Tamil Naidu.