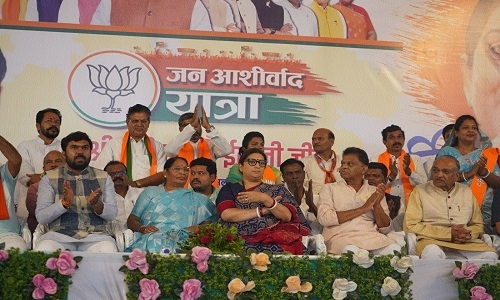 Our Correspondent
CHHINDWARA,
Union Minister of Women and Child Development and Minority Affairs, Smriti Irani reached Chhindwara to participate in the Jan Ashirwad Yatra. Irani addressed a huge public meeting at the local Dussehra ground. While addressing the gathering, Smriti Irani fiercely targeted Congress. Irani said that Madhya Pradesh was yearning for development during the Congress rule. It seemed meaningless to even imagine development. During the tenure of Digvijay Singh, there were dilapidated roads, electricity for two hours, neither fertiliser nor water. The public was so fed up that it gave its blessings to BJP by making it win with a huge majority. The BJP Government first started making plans in the State keeping in mind the basic needs of the people. The BJP Government not only made schemes for public welfare but also started implementing them. Irani said that earlier girls were considered a burden. With the birth of a girl, there was mourning in the family. But one thought of Madhya Pradesh Chief Minister Shivraj Singh transformed the girl child from a burden to a beloved Laxmi. Today lakhs of girls in Madhya Pradesh have become millionaires by availing the benefits of Ladli Laxmi Yojana. Smriti Irani said that earlier too there was a Congress Government but they never made the ladies of the house Laxmi. Smriti said that this is the difference between thinking and intention. Congress never thought of development.
Chief Minister Shivraj Singh is fulfilling all the duties of being a maternal uncle. He is helping lakhs of children in pursuing higher studies by giving laptops to the students and through the meritorious student scheme. Irani said that by bringing Ladli Bahna Yojana for the women of state, every eligible women is being given Rs 1,000 and now Rs 1,250 per month in her account. Irani said that the policy of Congress is to keep the poor poor so that they find support in Congress. Irani said that in this conference of G20 chaired by India, the issue of women's empowerment was included for the first time on which policy making was decided at the global-level. The Finance Minister of Congress used to say that the people of Bharat cannot understand digital payment, digital payment is not within the reach of the village people. But they were misjudging the capability of the people of Bharat, today even at a small vegetable shop you can buy vegetables by making digital payment. Irani said that I have full confidence that the people of Chhindwara will give their blessings to BJP.
District BJP President Vivek Bunty Sahu said that the BJP's Central and State Governments are making many schemes for public welfare and are also implementing them. Earlier only 15 paise of 1 rupee could reach the public but now the entire 1 rupee reaches the public. Today, the area under irrigation has increased manifold compared to the area under irrigation during the Congress tenure. Chief Minister Shivraj Singh has become the brother of sisters, maternal uncle of children and son of the elderly. He made and implemented plans for everyone. It is the result of BJP's developmental thinking that today Madhya Pradesh has moved from a sick state to the category of a developed state.
On this occasion, District BJP President Vivek Bunty Sahu, Lok Sabha extension Ashok Yadav, former MLA Chaudhary Chandrabhan Singh, Nanabhau Mohod, Pt Ramesh Dubey, Kanhairam Raghuvanshi, Ramesh Popli, Sheshrao Yadav, Prakash Uike, Thakur Daulat Singh, Narendra Parmar, Vijay Jhanjri, Tarachand Bawaria, Marotrao Khawse, Natthan Shah Kavareti, Tikaram Chandravanshi, Paramjit Singh Vij, Kanta Thakur, Ashish Thakur, Uttam Thakur, Santosh Jain, Vaishali Mahale, Sanjay Saxena, Ajay Chaure, Kanta Yogesh Sadarang, Vijay Pandey, Garima Damodar, Rohit Popli, Ankur Shukla, Santkumar Yaduvanshi, Om Patel, Jyoti Dehariya, Sanjay Patel, Yogendra Rana, Jagendra Aldak, Rizwan Qureshi, Tikaram Korachi, Alkesh Lamba, Veerpal Inwati, Yogesh Sadarang and a large number of general public and workers were present.