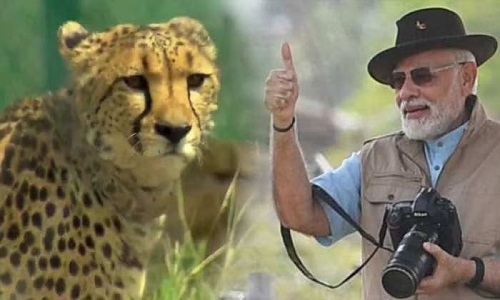 NEW DELHI,
FOUR of the six criteria established for assessing the short-term success of India's cheetah reintroduction programme have already been met, a Government report said on Sunday. Released upon the completion of one year of the programme, the report highlighted that the initial progress has largely followed a favourable trajectory well within the envisioned limitations. The project is on the right path to becoming a successful large carnivore conservation translocation and population establishment endeavour, it stated. "It cannot be overemphasised that the challenges are formidable. However, with concerted efforts by officials and managers from India, Namibia, and South Africa, along with the support from the highest offices in all three countries, the project is on its assured path to recovery," the report read.
The Cheetah Action Plan, published last year, lists six short-term success criteria, including 50 per cent survival of the introduced cheetahs for the first year, establishment of home ranges in Kuno National Park, successful cheetah reproduction in the wild, survival of wild-born cheetah cubs past one year, successful F1 generation breeding, and cheetah-based revenues contributing to community livelihoods. F1 stands for the first generation of offspring. The report noted that the project has achieved four of these criteria -- 50 per cent survival of the introduced cheetahs, establishment of home ranges, birth of cubs in Kuno National Park, and direct revenue contributions to local communities through the engagement of cheetah trackers and indirect appreciation of land value in surrounding areas.
India's ambitious initiative to reintroduce cheetahs after their extinction in the country marked its first anniversary on Sunday. The project began on September 17 last year when Prime Minister Narendra Modi released a group of cheetahs from Namibia into an enclosure at Madhya Pradesh's Kuno National Park. Conservationists and experts worldwide have closely monitored the project since its inception.