Cops nab 10 vehicle-lifters, including scrap dealers, recovers 24 stolen vehicles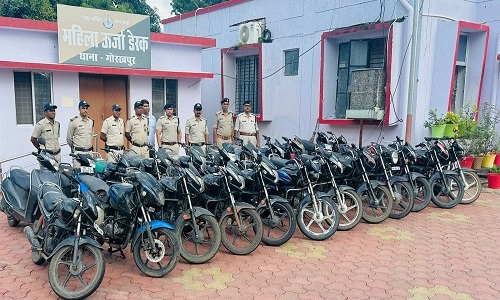 Staff Reporter
Combine team of Crime Branch and Gorakhpur police busted a gang of vehicle-lifters, apprehended ten accused including scrap dealers involved in stealing and purchasing of stolen vehicles and retrieved total 24 stolen vehicles amounting to Rs 15 lakhs from them.
The arrested have been identified as Adesh alias Golu Tiwari (27), son of Ghanshyam Tiwari of Adhartal, Somnath alias Sonu Dubey (26), son of Ramesh Dubey of Adhartal, Rohit Verma (21), son of Mahasingh Verma of Gohalpur, Prakash Vanshkar (34), son of Annilal Vanshkar of Belbagh, Mote alias Mehboob (32), son of Shekh Rajjab of Belbagh, Mohammed Aminuddin (26), son of Tahir Ansari of Gohalpur, Mohammed Irfan (27), son of Shareef Ansari of Gohalpur, Vijay Valmik (45), son of Ram Vishal Valmik of Madhotal and Arjun Sonkar (23), son of Baba Sonkar of Omti.
Superintendent of Police, Tushar Kant Vidyarthi informed that during a special campaign against vehicle lifters, Crime Branch received information about some suspects who were sight while trying to sell out stolen vehicles in Gorakhpur area. Acting promptly on the information, combine team of Crime Branch and Gorakhpur started a search and trapped the suspected boys. On their identification, police have arrested total six vehicle-lifters and four scrap dealers involved in vehicle lifting and purchasing stolen vehicles. Police have retrieved total 24 stolen two-wheelers amounting to Rs 15 lakhs.