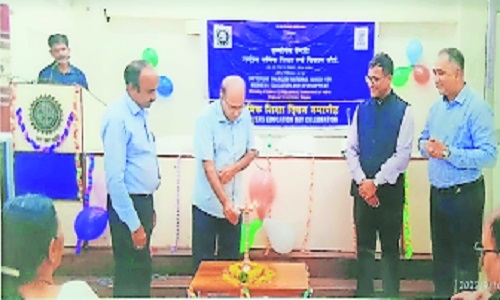 Business Reporter
The Foundation Day of Dattopant Thengadi National Board for Workers Education and Development (DTNBWED) was celebrated as 'Workers Education Day' on Saturday at Regional Directorate on Northa Ambazari Road in the city. The programme commended with the lighting of traditional lamp. Board Member, DTNBWED, Ajay Patki, was the chief guest of the function. Expressing his views, Patki stated that the Board is undergoing a change as per the present day requirements and requested all the stakeholder for their whole-hearted support in such an endeavour, be it trade unions, NGOs, workers or management.
He further requested the stakeholders to come out with suggestions for further improvements, which will ultimately help in the upliftment of the workers. He also stated that presently 'eshram' portal is data base of 30 crore workers and Government is coming out with various schemes will benefit the workers. Guest of honour and Director, DGMS, Nagpur Rupesh Srivastava, stated that sensitisation of workers is the present day need and how to overcome the new challenges being faced by the workers.
Special guest, Dr Vikas Jamulkar, Assistant Professor, RTMNU, and also Member of Regional Advisory Committee, of Regional Directorate, DTNBWED, Nagpur highlighted the need for sensitizing the workers about their rights and privileges, details about Government welfare schemes and for this workers education play their important role. Regional Director, DTNBWED, Nagpur C Battacharjee elaborated the journey of the board and briefed about its activities. He also highlighted the importance of workers education in the present day scenario. Senior Education Officer D S Sahare proposed the vote of thanks.