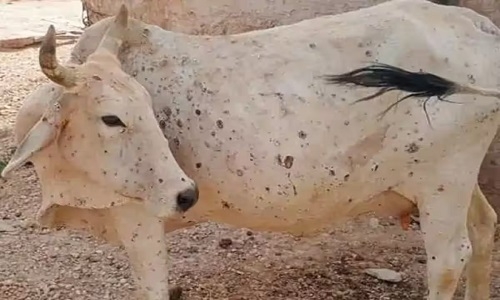 Staff Reporter
outbreak of lumpy virus continues in the State capital, due to which 15 cows have lost their lives so far. Whereas, till now 130 cows have been found infected from different areas of the city. The civic body has caught the cattle which were infected and wandering on the road and have been kept in animal shelter of Jahangirabad, while infected cattle are also being found at animals owner places. Infected cattle have been asked to be kept away from healthy animals. So that the infection of lumpy does not spread.
According to information received from Veterinary Department officials, about 10 infected cows are being found in the district everyday. Some of them are destitute and some include cattle of cattle herders. The infected cattle are being quarantined and treated. But these also include some cows who have been injured in a road accident but are infected. Such cows are not able to recover soon. Three such cows died on Friday. Including these, 15 cows have died so far.
The number of cattle infected is continuously increasing in the district.
The shelter located in Jahangirabad has space to keep only 32 cows which is now completely filled. Kanji House in Gandhinagar has been identified to keep destitute infected cows being caught by the Municipal Corporation staff. More than 20 cows have been transported here so far. All of them have been quarantined separately from healthy cattle. So far, 130 cows have been found infected with lumpy virus in the district. Of these, 15 cows have died. Infected include destitute cattle and domesticated cattle. This is the reason why infected and healthy cattle are kept separately. Our team is continuously treating the cows, said Dr Ajay Ramteke, Deputy Director (Veterinary).