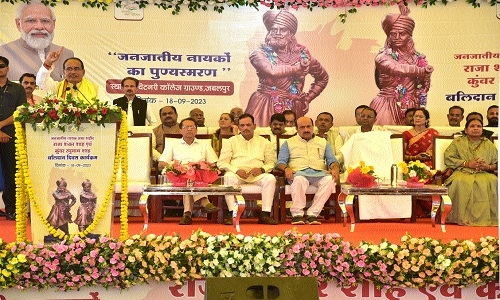 Staff Reporter
Chief Minister Shivraj Singh Chouhan said that immortal freedom fighters, Raja Shankar Shah and Raghunath Shah refused to accept the slavery of British rule and planned a revolution. Unfortunately, the father-son duo was sentenced to death on September 18, 1857. The fire of revolution spread rapidly following the sacrifice of Raja Shankar Shah and Raghunath Shah. Chief Minister Chouhan was addressing a huge gathering assembled at Veterinary Ground on the occasion of Martyrdom Day of both the Heroes of 1857 freedom struggle, on Monday. Attired with Veera and Safa, the symbol of Tribal culture, he announced to observe Martyrdom Day of both the Tribal Heroes on September 18 every year in the State.
He said that all the 14 announcements made by Union Home Minister, Amit Shah for the welfare of tribal community during Martyrdom Day previous year, have been fulfilled. With these announcements which paved way for their social and economic empowerment, now the tribal people are getting mainstreamed in the society. Mentioning about the bravery and gallant acts of Gond ruler, Rani Durgavati, he said that with her ruling efficiency and courageous approach, the Gondwana Queen had established a huge empire which included Madan Mahal, Garha Mandla and Singrampur. She proudly preferred to give her life rather than accepting the slavery of Mughal ruler, Akbar. Hence, State Government has decided to perform bhoomipujan of a grand memorial to be constructed worth Rs 100 crore at Madan Mahal on the occasion of 500th birth anniversary of Rani Durgavati on October 5, 2023. The Prime Minister Narendra Modi during his recent visit to Shahdol, shared to issue a postal ticket and a coin dedicated to the Gondwana Queen. He said that the State Government has implemented many schemes including PESA (Panchayat Extension to Scheduled Area) Act, to the tribal community on water, forest and land at 89 tribal blocks in the State.
The State Government has initiated Engineering and Medical education in Hindi medium so that the wards of tribal families may pursue specialised higher education. Simultaneously, 05 percent seats in medical course are reserved for Government school students and to inspire the students, laptop for the students who score more than 75 percent and scooty for those who topped in class XII in their schools. The Chief Minister added that by initiating Mukhya Mantri Ladali Bahna Yojana, the State Government has ensured their due respect to the women. Now Ladali Bahnas who are residing in Kaccha house, will get fund to construct Pakka one through Mukhya Mantri Ladali Bahna Awas Yojana. The beneficiaries of Pradhan Mantri Ujjawala Yojana and Ladali Bahnas would get LPG in subsidised rate of Rs. 450 only, while the poor families' pending electricity bills upto 1 Kv will be deposited by the Government.