Colliery workers threaten to stage 72-hrs nation-wide strike from October 5 to 7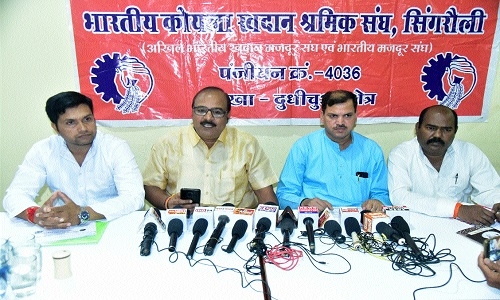 Staff Reporter
"Some of the officers in Coal India Limited (CIL) are trying to hamper the industrial peace through a conspiracy of provoking the colliery workers. All India Khadaan Mazdoor Sangh (BMS) are registering their strong presence to fight for the rights of workers. All the colliery workers should be united for pressing their demand before CIL authorities for providing Minimum Guarantee Benefit (MGB) of 19 per cent to colliery workers. If their demand will not be fulfilled on priority basis, colliery workers will stage 72-hours nationwide strike from October 5 to 7", said Ashok Kumar Mishra, National Organisation Secretary, All India Khadaan Mazdoor Sangh while addressing a press conference, on Monday.
Addressing the press conference, BMS State Secretary, Rajesh Kumar Patel and District Secretary, Surjeet Singh informed Coal India Officers, according to their wage agreement dated January 1, 2017, were fulfilled by the CIL but Mazdoor Sangh never opposed the same. On the other hand, Colliery Workers were given benefit of 19 percent MGB which was pending since January 1, 2021 but the colliery officers have challenged the availability of benefit to workers before the Madhya Pradesh High Court.
The act of colliery officers is badly hampering the industrial relations in Coal India Limited which will directly impact the overall performance of organization. Office-bearers and members of Akhil Bharatiya Khadaan Mazdoor Sangh have extended appeal for reinstating the benefit of 19 percent MGB to colliery workers otherwise they will stage nationwide strike from October 5 to 7.