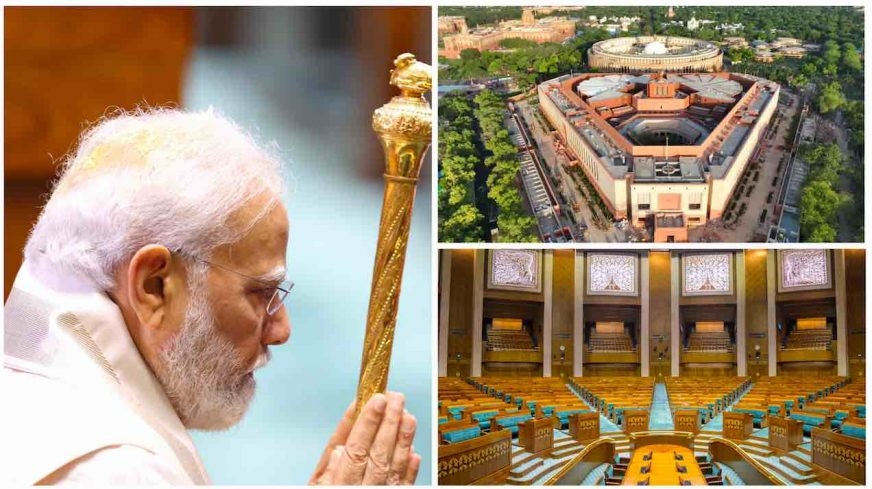 NEW DELHI :
■
"It is a very emotional moment to bid farewell to this building. As we leave this building our mind is filled with many emotions and memories," PM Modi said in Lok Sabha
AS THE old Parliament building hosted a session one last time, Prime Minister Narendra Modi on Monday bid a poignant farewell recalling the country's first PM Jawaharlal Nehru's iconic "tryst with destiny" speech for continuing to inspire everyone and another predecessor Atal Behari Vajpayee's "Governments may come and go" remark. Reminiscing the country's Parliamentary journey of 75 years, Modi at the same time reminded the Lok Sabha about Emergency as well as the 2008 'cash-for-vote' scam during the first term of the Manmohan Singh Government. As he sang paeans to previous Prime Ministers including Lal Bahadur Shastri, Indira Gandhi and PV Narasimha Rao, Modi remembered the journey of India's democracy and said the last day in the heritage building should be dedicated to the over 7,500 parliamentarians who served there since Independence in 1947. "It is a very emotional moment to bid farewell to this building. As we leave this building our mind is filled with many emotions and memories," Modi said, initiating the discussion on "Parliamentary Journey of 75 years starting from Samvidhan Sabha -- Achievements, Experiences, Memories and Learnings". Modi paid tributes to "every brick" of the old Parliament building and said MPs will enter the new complex with "new hope and confidence". The Rajya Sabha and the Lok Sabha will meet again on Tuesday afternoon in the new l y -co n s t r ucted Parliamentbuildingafterthey were adjourned following a discussion on the country's parliamentary journey onthe first day of the five-day session.Parliament will be shifting to the swanky complex on the auspicious occasion of Ganesh Chaturthi. In his 52- minute speech, Modi said it was in this Parliament that Pandit Nehru delivered his "tryst with destiny" speech "at the stroke of midnight hour" to mark India's independence from colonial rule and his words continue to inspire everyone.
"In the same House, Atalji's words about'sarkare in aayegi, jayegi; partiyan banegi, bigdegi;lekin yeh desh rehna chahiye' (governments may come and go; parties may be formedordisbanded;butthis nation has to live on) continue to echo even today." IntheRajya Sabha,Leader of Opposition and Congress President Mallik arjun Kharge used poetry and humour to take a swipe at the Government, saying nothing will be accomplished by changing names. He also recalled how Jawaharlal Nehru's"inclusive"approach of involving Opposition parties had led to the laying of a strong foundation for the Constitution. Kharge began his speech with a poem in Hindi. "Badalna hai to halat badlo, aise naam badalne se kya hota hai? Dena hein to yuva ko rozgar do, sab ko berozgar karke kya hota hai? Dil ko thoda bada karke dekho,logon ko marnese kya hota hai? Kuch kar nahi sakteho,kursi chordo,baatbaat mein darane se kya hota hai? "Apni hukumrani par guroor hai, logon ko darane se dhamkane se kya hota hai?
Badalna hai to halat badlo, aise naam badalne se kya hota hai? Yahan se wahan jane mein kya aur honewala hai?" he said. PM MENTIONS OLDEST, YOUNGEST, LONGEST SERVING MPS: As the functioningofParliamentshiftsto the new building, Prime Minister Modi mentioned the oldest member of Lok Sabha - 93 yearsoldSPMPShafiqur Rahman Barq – and the youngest - 30 years old Chandrani Murmu of BJD – who became an MP at the age of 25. He also remembered Communist Party of India (CPI) leader Indrajit Gupta, who served as a Lok Sabha MP for almost 36 years from 1960to2001,exceptforashort period from 1977 to 1980.
'Unparalleled contribution'
NEW DELHI,
LOK Sabha Speaker Om Birla on M o n d a y said the old Parliament b u i l d i n g has an "unparalleled" contribution to I n d i a ' s democratic journey as collective decisions were taken for the welfare of the nation.This House has been a vibrant symbol of the culture of dialogue, he saidsoon after the Lok Sabha proceedings went underway. "Our Parliament building hasbeena witness tothehistoric moment of India's Independenceandtheentire process of drafting the Constitution.Ithasalsobeen awitnesstothegloriousdemocratic journey of our modern nation," Birla said. "Over the past 75 years, it took collective decisions for thewelfareofthenationamid agreements and disagreements among various parties, passing laws through parliamentary deliberations that brought about socioeconomicchangesinthelives of the people," Birla said. Even during the times of crisis and adversity, this House faced them with unity and commitment,the Lok Sabha Speaker said.
'Seven-decade journey'
NEW DELHI,
Sept 18 (PTI)
R A J Y A S a b h a Chairman J a g d e e p Dhankhar in his o p e n i n g r e m a r k s , s a i d , " Tr a v e r - sing the seven-decade journey, from Samvidhan Sabha to the present day in Amrit Kaal,thesehallowedprecincts have witnessed many milestones." "Hon'ble members, this journey had historical moments -- from 'Tryst with Destiny' on the midnight of August15,1947,totheunfoldingoftheinnovativeforwardlooking GST regime on midnight of June 30, 2017, and nowthisday,"theRajyaSabha chairman said. The five-day 261st session oftheRajyaSabhastartedon Mondaywithadiscussionon 'Parliament Journey of 75 years starting from Samvidhan Sabha -- Achievements, Experiences, Memories and Learnings'. Thechairmansaidthatthe deliberations in the ConstituentAssemblyinvarious sessions spread over threeyearsexemplifieddecorum and healthy debate. Contentious and highly divisive issues were negotiated in a spirit of consensus, he added. "Thereisenoughtakeaway from this for us all. Healthy debate is the hallmark of a blossoming democracy. We musteschewconfrontational posturing. Weaponising disruption and disturbance as a strategy would never secure the sanction of the people," Dhankhar said.
Oppn to raise people's issues
NEW DELHI,
Sept 18 (PTI)
LEADERS of I.N.D.I.A. bloc met here on Monday ahead of the start of special session of Parliament and decided to participate in the discussions and raise people's issues, sources said. The leaders during the meeting of I.N.D.I.A. alliance in the morning decided to continue with thefloorcoordinationamong the parties during the fiveday session and corner the Government on issues of price rise, unemployment, Manipur violence and Chinese transgressions on the border. They also decided to press the Government toallowdiscussionsonissues related to Adani firms, farmers distress, economic situation in the country, and the caste census. Sources said the alliance decided to oppose the CEC and other ECs appointment bill which has already been introduced in the Rajya Sabha. Leaders of the Congress, TMC, RJD, NCP, Leftparties,JMM,Samajwadi Party, DM and VCK were among those who attended the meeting at the office of Leader Of Opposition in Rajya Sabha Mallikarjun Kharge at around 10 AM. Former Congress chief Sonia Gandhi has already written to Prime Minister Narendra Modi about the absence of agenda forthe special Parliament session, and proposing a list of issues she wanted a discussion on. Gandhi listed nine issues for discussion in her letter whichincludedpriceriseand violenceinManipur,CentreState relations, rise in cases of communal tension, bordertransgressions byChina, and the demand for a joint parliamentary committee (JPC) to investigate the transactions of the Adani businessgroupinlightofseveral revelations.