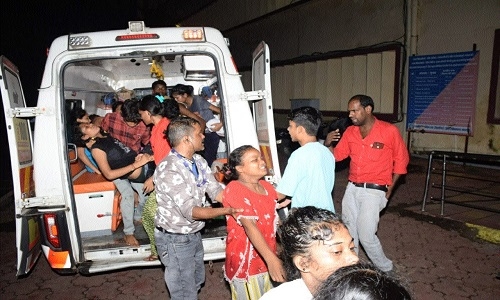 Staff Reporter
More than 100 hostellers associated with Eklavya Residential School (ERS), Rampur under Gorakhpur police station, fell ill after having dinner on Monday. Seeing the deteriorating health of children, the School administration immediately updated Collector Saurabh Kumar Suman and Police administration. In a hustle, these students were shifted to different hospitals where doctors diagnosed them suffering from food poisoning. When enquired, the students informed the doctors that they had Jackfruit curry in dinner soon after which they developed different health issues. Soon, the hostel administration called 108 and private vehicles to shift the children to the hospitals. As the number of ailed children was quite high, it was not possible to shift them in a single hospital.
According to Chief Medical and Health Officer, Dr Sanjay Mishra, the hostellers of Eklavya Residential School started complaining about stomach pain, nausea and restlessness soon after having their dinner on Monday night. A total of 101 hostellers were admitted in different Government and private hospitals including 55 in Paediatric Department of Netaji Subhash Chandra Bose Medical College, 37 in Government Seth Govinddas District Hospital and 11 in different near-by private hospitals. Following emergency call, Dr K K Verma, RMO, Dr Neelkamal Suhane, Dr Nandan Sharma and Dr Rishika joined the medical team at District Hospital. Dr Kamlesh Verma, Head of Paediatric Department, District Hospital, informed that all the students had same symptoms hence it was sure that it was a matter of food poisoning. Our team received directions from the CMHO within half-n-hour of the incident, to get ready and make suitable arrangements to provide required treatment to the hostellers. All of them felt better after receiving treatment and have already been discharged.
One of the paediatricians at Netaji Subhash Chandra Bose Medical College, said that except a girl, who was admitted at Medicine Department due to acute dehydration would remain under observation for further 24 hours, rest all the other children have already been discharged after treatment. Fortunately, they didn't have any severe symptoms. Collector Suman immediately alerted all the hospitals to get ready with expert teams and instructed the SDM Gorakhpur and concerned officers of Health and Food Supply Department to check the food served in the hostel. The team collected food samples from the hostel for further investigation. Meanwhile, the parents assembled outside the hostel and staged protest blaming the hostel management of serving sub-standard food to the hostellers.