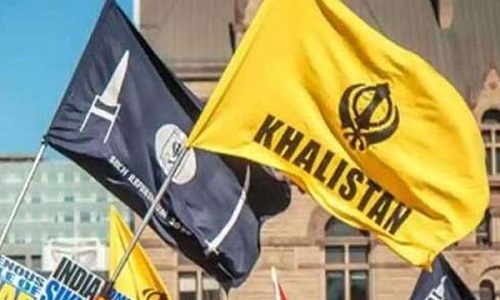 NEW DELHI,
AT LEAST nine separatist organisations supporting terror groups have their bases in Canada and despite multiple deportation requests Ottawa has taken no action against those involved in heinous crimes including the killing of popular Punjabi singer Sidhu Moosewala, officials said. They said that pro-Khalistani outfits such as the World Sikh Organization (WSO), Khalistan Tiger Force (KTF), Sikhs for Justice (SFJ) and Babbar Khalsa International (BKI) working at the behest of Pakistan have been allegedly operating freely form the Canadian soil. They said allegations levelled against India by the Canadian authorities and politicians in relation to the murder of Canadian citizen Hardeep Singh Nijjar, a Khalistani terrorist, are incorrect and based on unsubstantiated assumptions. The issue of deportations of wanted terrorists and gangsters have been raised by Indian authorities at multiple diplomatic and security talks but the Canadian authorities remained non-committal and brazen in support of these terror elements, the officials said. Multiple sets of dossier have been handed over to the Canadian side but India's deportation requests have gone unaddressed, they said, adding at least nine separatist organisations supporting terror groups have found their bases in Canada. Eight individuals involved in terror activities and as many gangsters, who have been conspiring with Pakistan's ISI, have found a safe haven in Canada, the officials said. They said that deportation requests for these people -- including Gurwant Singh who was involved in terrorist activities in early 1990s -- have been pending with the Canadian authorities for years now. An Interpol Red Corner Notice is also pending against him. The officials said Indian authorities had requested for the deportation of Gurpreet Singh, who is also involved in terror cases, and provided his Canadian address but no action was taken.
They said the request for deportation of dreaded gangsters including Arshdeep Singh alias Arsh Dalla, wanted in 16 criminal cases, Satinderjit Singh Brar alias Goldy Brar, who took responsibility for killing of famous Punjabi singer Sidhu Moosewala, had been submitted with evidence against them but no action was taken by the Canadian Government. The separatist organisation were openly issuing assassination threats, fuelling separatists' agenda and carrying out targeted killings in India, they said. They pointed out that high profile assassination of popular singer Sidhu Moosewala by the Canada-based gangster with affiliations to pro-Khalistan elements "is a classic example of this". Other Canada-based wanted terrorists are Gurwant Singh Bath of the Dashmesh regiment of Khalistan, Bhagat Singh Brar (who is son of Pakistan-based terrorist Lakhbeer Singh Rhode), Moninder Singh Bual, Satinder Pal Singh Gill, they said. Nijjar, who carried a cash reward of Rs 10 lakh, was born in Punjab on November 10, 1977 and was affiliated with the now banned Khalistan Tiger Force (KTF). He was arrested in the mid 1990s. He managed to get bail and fled India on February 19, 1997 by assuming a fake identity of Ravi Sharma and securing a travel document in that name. In 2013-14, Nijjar visited Pakistan where he met Jagtar Singh Tara of Khalistan Tiger Force (KTF), wanted in assassination of Punjab former Chief Minister Beant Singh. He was during that period roped in by the ISI which helped him in organising secret training camps for Sikh extremist groups associated with the Khalistan movement in Missigen Hills, British Columbia. Nijjar, who was designated as a terrorist by the Union Home Ministry, was also accused of working closely with Babbar Khalsa International (BKI) led by Jagtar Singh Tara. He has been associated with Dal Khalsa leader Gajender Singh, a key accused in hijacking of an Indian Airlines flight in 1981.
His name figured in the most wanted list handed over by then Punjab Chief Minister Captain Amrinder Singh to the Canadian Prime Minister Justin Trudeau in 2018. Nijjar along with criminals like Arsh Dalla were generating huge amounts of funds for anti-India activities by various means which included drug money and finances from Gurdwaras, the officials said. They said Canada's current diplomatic standoff with India appears to be motivated by failures on the domestic political front and declining popularity of the present government and expulsion of an Indian diplomat seems to be aimed at getting support of the Sikh population especially those harbouring pro-Khalistan sentiments. The officials also pointed out that support for extremist elements and gangsters in Canada are deeply linked with the political realities that influence the vote bank in various Sikh dominated constituencies. They pointed to the role of Jagmeet Singh Dhaliwal, an MP from Burnaby South, who belongs to the New Democratic Party of Canada which has been a vocal supporter of the Khalistan referendum that seeks a Balkanisation of India and fuels separatist sentiments amongst Canadian Sikhs. Dhaliwal was earlier placed on black list for his anti-India activities. The officials said that the Canadian authorities have failed to bring out any direct association of Indian authorities with Nijjar's murder and pointed out at the another murder of another Canadian citizen Ripudaman Malik, who faced wrath of Nijjar and Sikh for Justice for printing of Shri Guru Granth Sahib by Satnam Religious Prachaar Society (SRPS). Few days later, he was killed by unidentified gunmen. The officials said that Nijjar's killing was a handiwork of internal rivalry between various groups.