After EC's strictness, Excise Deptt crackdown on liquor mafia ahead of elections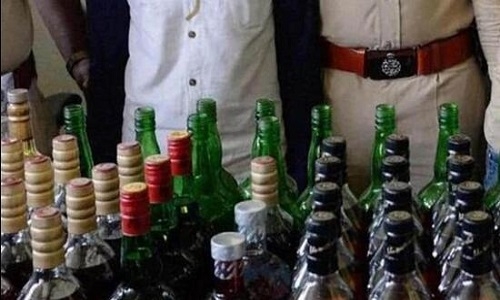 Staff Reporter
The election atmosphere in the State capital is now clearly visible. Recently, the Election Commission of India team had conducted a major tour in Bhopal. During the team's visit, instructions were given for tightening noose on liquor Mafia across the entire State including Bhopal. After this, on the instructions of Bhopal Collector Ashish Singh, swift action was taken in the district. The situation was such that raids were carried out late at night at places where the police and administration did not raided till now. On the instructions of the district administration, joint teams of police, excise, FDA and other departments took action against more than 100 people within two days. Cases have also been registered against those carrying out illegal activities by raiding all the bars, pubs, restaurants, hotels and dhabas of the city.
According to Assistant Excise Commissioner Deepam Raichura, within two days, a team of more than 40 officers took action at Bairagarh, Khajuri Road, Kerwa Dam Road, Hoshangabad Road, Kolar Road, Gulmohar, MP Nagar and other places and raided about 12 restaurants and bars. Cases have been registered against about 75 people here. Besides, the stock of all 77 liquor shops of the city is being checked online daily. Similarly, Food and Drug Administration officials have taken samples of more than 25 food items for testing within two days.
It is being told that the Election Commission officers bluntly told all the Collectors and SPs that they would write the CR of the officials concerned of district from which more complaints were received. After this, the district officers have given orders to the officers of the concerned departments to do as much as possible by citing CR. On the instructions of the Election Commission of India, action is being taken against liquor transportation and illegal activities. However, even before the instructions, our teams are taking action from time to time. Illegal activities including liquor will be completely banned in the district, said Ashish Singh, Bhopal Collector.