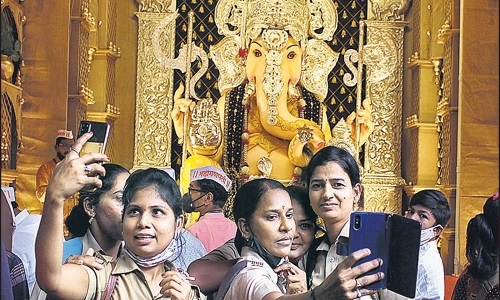 MUMBAI,
THE 10-day Ganesh Chaturthi festival started in Maharashtra on Tuesday, with idols of Lord Ganesh, the god of prosperity and wisdom, being installed in homes and at pandals across the State with pomp and gaiety. The public celebration of the festival in the State dates back to the 1890s when the nationalist leader Bal Gangadhar Tilak and others decided to use it to mobilize the masses. Ganesh mandals in Mumbai and other major cities took large idols in processions accompanied by dhol-tasha beats to their pandals in the last few days. Household Ganesh idols were brought mostly on Monday night or in the morning on Tuesday with chants of 'Ganpati Bappa Morya'. Devotees thronged vegetable and flower markets, sweet shops and roadside stalls for buying flowers, puja materials, sweets and decorative items. Idols in various shapes and sizes were installed at several households and in pandals in Mumbai against the backdrop of elaborate decorations based on myriad themes ranging from the Chandrayaan-3 launch to Ayodhya's Ram Mandir. Families, including children as well as senior citizens, stepped out of their homes early morning to bring their beloved "bappa" home amid chants of "Ganpati Bappa Morya" and the beating of drums. Many people were seen carrying the idols in autorickshaws, cars, and other modes of transport. Among politicians, Maharashtra Chief Minister Eknath Shinde and Deputy CM Devendra Fadnavis installed Lord Ganesh's idols at their respective official residences in Mumbai.
In Pune, RSS chief Mohan Bhagwat performed "pran pratishhta" puja of Lord Ganesh at the pandal of the famous Dagdusheth Ganpati. "I have prayed to Lord Ganesh to bring prosperity and peace to the people of the state," the chief minister said after performing puja with his family members at 'Varsha', his official residence. Fadnavis installed Lord Ganesh's idol at his official residence Sagar. Speaking to reporters later, Fadnavis said the blessings of the Lord are with "Mahayuti" (grand alliance led by BJP). Many film and television personalities also welcomed the deity to their homes. The Ganesh Chaturthi festival began in Pune amid usual fanfare with prominent Ganesh mandals or the groups, including the five most revered ones, taking out big processions to welcome the lord. Traditional Dhol-Tasha (drum) troupes accompanied the processions which began in the morning. Mumbai's GSB Seva Mandal's 'Mahaganpati', renowned as possibly India's richest idol and always the talk of the city for the opulent way it is decorated, is this year resplendent in 66.5 kilograms of gold ornaments, more than 295 kilograms of silver as well as other precious items. The mandal, at King's Circle in the eastern part of the city, is celebrating its 69th year and a first in the installation of facial recognition cameras as part of the security arrangements, a Mandal spokesperson said. In Mumbai, more than 13,750 police personnel have been deployed for security during Ganesh festivities, an official said. These comprise 11,726 constables, 2,024 officers from the rank of sub-inspector to the assistant commissioner and 15 deputy commissioners, he said.
While many famous Ganeshas are installed in pandals in the early morning hours in Mumbai, including the most famous Lalbaugcha Raja, many idols were being taken out from workshops to the pandals in processions. People will be allowed to take darshan of the deity at pandals after the puja is performed as per the muhurat, an organiser said. A total of 2,729 'sarvajanik Ganeshotsav mandals' have been permitted to organise public Ganesh festivities by erecting 'pandals', the city civic body said. The festival is celebrated with great enthusiasm in the coastal Konkan region comprising districts of Thane, Ratnagiri, Sidhudurg, Raigad, and Mumbai. The Konkan Railway operated special trains to Konkan from Mumbai to Goa to allow people to travel to their native places for the festival. Jayendra Mungekar, who works at a hotel in Mumbai and is originally from Munge village in Sindhudurg district, said he never misses Ganesh Chaturthi at his ancestral place. "We have been celebrating this festival for generations and hope that it continues in the same way," he said.