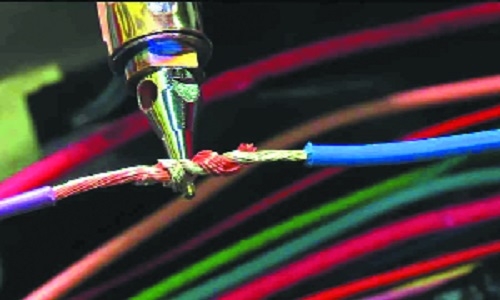 Business Reporter
THE Government has issued mandatory quality norms for solder wires, used in electronics and engineering industry, to curb the import of sub-standard goods and boost domestic manufacturing of these goods. A notification in this regard was issued by the Department for Promotion of Industry and Internal Trade (DPIIT) on September 18. Items under Flux Cored Solder Wire (Quality Control) Order, 2023 cannot be produced, sold, traded, imported and stocked unless they bear the Bureau of Indian Standards (BIS) mark. These orders will come into force with effect from six months from the date of publication of this notification, the DPIIT said on Tuesday.
Soldering is a critical process where quality of flux cored solder wire is of paramount importance as any failure will impact quality and safety of the products soldered particularly in electronic and automobile industry. "The implementation of the Quality Control Order (QCO) for this product is crucial not only for the safety of consumers, but will also improve the manufacturing quality standards in the country and curb imports of sub-standard products into India," it added.
Till now, BIS certification rules were not applicable on these products. Violation of the provision of the BIS Act can attract imprisonment of up to two years, or a fine of at least Rs 2 lakh for the first offence. In case of second and subsequent offences, the fine will increase to a minimum of Rs 5 lakh and extend up to 10 times of the value of goods or articles. According to the notification, to support domestic micro and small industries, relaxations have been granted in terms of the timeline for implementing the QCO. Various initiatives, including the development of QCO, are being undertaken by the department to develop quality sensitisation among users and manufacturers alike.