MP Transco's outsourced technical personnel risk their lives to restore power in Indore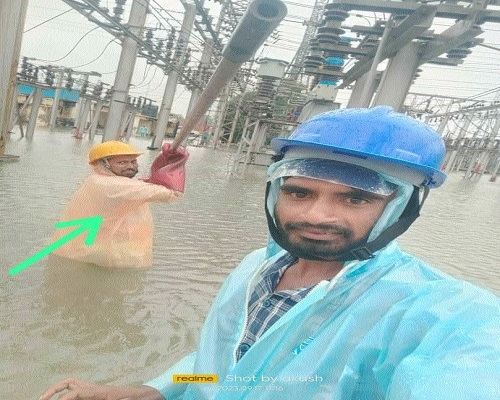 Staff Reporter
Madhya Pradesh Power Transmission Company's (MP Transco) outsourced technical personnel, who without caring for their lives, went into waist-deep water in Indore North Zone 220 KV sub-station of MP Transco, played an important role in restoring the city's electricity system by operating isolators in the sub-station. During the heavy rains in Indore in the last few days, there was power disruption in many areas due to tree branches falling on power lines at various places in the city and other reasons. At such a time, people needed electricity the most, the entire city was submerged in water. There was waist-deep water at the place where the isolator was to be operated. With a view to restore the electricity supply to the residents of Indore, especially the consumers connected to the feeder of Saver Road, Galiya Hatila took up this risky task of operating isolators in the yard, risking his life, with all the necessary safety materials. This was done carefully, due to which the electricity supply of the area could be restored.
In fact, due to excessive rainfall in Indore area, the power supply of some of the Indore city area was affected from MP Transco's 220 KV sub-station situated dense population of the city located in North Zone Indore. The substation yard was filled with waist-deep water. Meanwhile, the 33 KV power coming out of this substation, there was electrical disruption in some lines. The repair work of these lines was done by the power distribution company during this excessive rain, but the power supply to the power consumers could be restored only when 33 KV isolator of these lines could be operated and firmly closed from 220 KV Substation North Zone.
Operating of isolators in waist-deep water in the substation yard could have been a very risky task. But Galia Hatila, the outsourced operator working on duty in the substation, performed this work with great excellence by showing courage and smartness. In this work, outsourced security guard Akash Pawar also supported Galia Hatila with full courage and confidence. Energy Minister Pradyuman Singh Tomar and MP Transco Managing Director Sunil Tiwari have congratulated outsourced technical worker Galia Hatila and security gaurd Akash Pawar for this brave performance. It must be mentioned that an isolator is a manually operated mechanical switch that isolates the faulty section of substation from live section. It is used to separate faulty section for repair from a healthy section in order to avoid the occurrence of severe faults. It is also called disconnector or disconnecting switch.