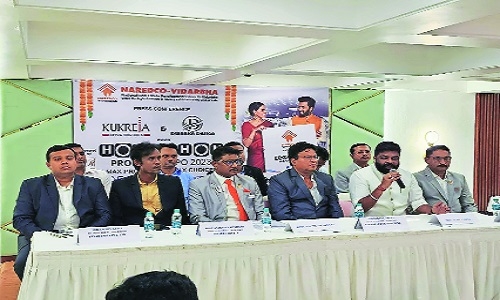 Business Reporter
National Real Estate Development Council (NAREDCO), Vidarbha Chapter will to host its first ever real estate exhibition - 'Homethon Property Expo 2023' here in the city at Reshimbagh Ground from October 6 to 8. The three-day exhibition will witness more than 70 stalls, showcasing 250 plus properties. Commenting on the property exhibition, Ghanshyam Dhokne, President of NAREDCO Vidarbha, at a press conference on Monday said, "We are proud to present our first home buying expo bringing in developers and home seekers under one roof." Title Sponsor of this Property Expo has Jointly been honoured by Kukreja Infrastructures & Dwarka Design whereas the event has been Powered by Runwal Group and Tata Housing and Co-Powered by Kesar India Pvt. Ltd. The event is supported by Hiranandani Group, Raunak Group and Prem Group.
Shri Skylab Bhanare, Event Director, Homethon, said, "Previous editions of the expo at Mumbai, Pune and Nashik have consistently been a beacon for those seeking their dream homes. Title Sponsor of Homethon "Kukreja Infrastructures" Technical Director Vikrant Chaoubey said, "We are excited and happy to participate in the event." Title Sponsor - Director of Dwarka Design Sandeep Gurharikar, said, "the expo will surely be identified as apex Expo of real estate in coming times."
The expo's Co-Powered exhibitor Kesar Lands Director Sachin Gupta, Said that "Homethon will surely win the trust of common people." Eventrails will be the Event Management Company and M/S Sakshi Communication will be the Media Partner. Kunal Padole, Treasurer of NAREDCO Vidarbha, and other were present.