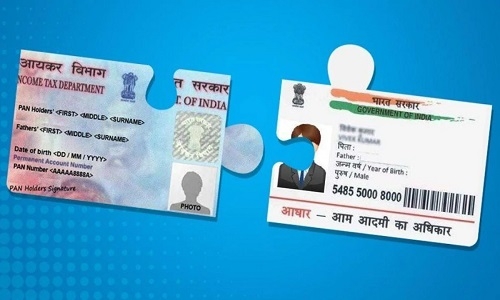 Staff Reporter
The deadline for linking PAN number with Aadhaar along with late fee of Rs 1,000 is September 30. Those who do not link both the numbers by this date, their PAN numbers will become in-operative. Hundreds of people who want to link their numbers are facing two major problems. The first problem is that their PAN and Aadhaar data is not matching. There is more problem in this regarding name and surname. The reason for this is that those whose Aadhaar cards were made 10 years ago. The date of birth is not complete in their Aadhaar but only the year of birth is mentioned in the card. There are some people among them who have short names. Like Sunil Kumar Verma is there in Aadhaar and V K Verma is there in PAN card. The second problem is that on the Income Tax Department portal, the number is being displayed as linked, while on the UIDAI portal, the number is being displayed as not being linked. People are getting troubled due to both these technical problems.
Rajesh Jain, an expert in income tax matters and senior Chartered Accountant, said that the Income Tax Department had issued an explanation regarding this on social media in July last. Despite this, people's problems are not decreasing. The Unique Identification Authority of India has extended the deadline for free online updation by three months from September 14 to December 14 for people with Aadhaar more than 10 years old. A circular has also been issued in this regard. Bhopal Chamber of Commerce and Industries President Tezkul Singh Pali, New Market Traders Federation President Sanjay Valecha and officials of many traders organisations have demanded to extend the deadline for linking Aadhaar and PAN numbers.
If the information in Aadhaar or PAN is not the same or is incorrect then get it updated. After this follow the process of linking the number. If there is any inconvenience, go to the nearest MP online kiosk and get the number linked. If Aadhaar PAN number is not linked then first of all match the Aadhaar and PAN information like name, date of birth and spelling of father's name with both the cards. Because this data of both must be same. If this information including the spelling is the same, then make a bank challan of Rs 1,000, then go to the menu of this website, enter Aadhaar number, PAN number and challan number and submit. The number will be linked in about 30 days.