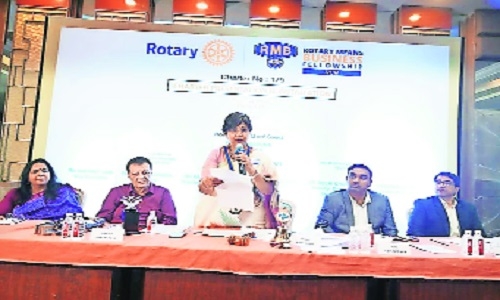 Business Reporter
The Rotary Means Business chapter of Rotary Club of Nagpur (RMBRCN) celebrated its Charter presentation and installation of board on Sunday. Rotary Means Business encourages Rotarians to support the success of their fellow Rotarians by doing business with them and by referring others to them. Charter President Past President Rtn. Rina Sinha presided over the ceremony. Renowned entrepreneur and Rotarian Aspi Bapuna, Chairman Bapuna Group, was the chief guest and Rtn Namita Sharma, President RCN, was guest of honour.
The Board of Directors of RMBRCN are Rtn Navneet Jain, Vice President, Rtn Mohanned Master Honorary Secretary, Rtn Sanjay Aggarwal Treasurer, Rtn Rakhi Bhatia Director Chapter Service, Rtn Rahul Shrivastava Director Vocational Service, Dr Ruchi Choudhry Director Membership Development, and Ranjana Duseja Director Attendance. PDG Shabbir Shakir, Past Presidents Bharat Goenka, Khushnoor Chugh, Sanjiv Chugh, Akhtar Parvez, Tejinder Singh Rawal, Alok Goenka, Jerestine Watchmaker, Sandeep Dhodapkar and Rtn Sanjay Arora, President RMB Nagpur, Behram Patel were also present .
On the occasion Rina Sinha said already 48 members representing various businesses have joined the chapter and the numbers are increasing. Bapuna lauded the chapter's success and reiterated that its comfortable and safe to do business among fellow Rotarians as all follow the Four Way Test of Rotary. Jerestine introduced President Rina. Bapuna presented the charter and installed President Rina Sinha. Rtn Namita congratulated the RMB chapter. Navneet Jain and Rahul Choudhry conducted the referral. Nishchay Sinha launched the social media and MYRMB app which connects members to other chapters digitally , Treasurer Sanjay Agarwal gave treasurer's report, Rtn Rakhi Bhatia managed the event. MOCs were Rtn Parag Datey and Niharika. Secretary Mohammed Master proposed the formal vote of thanks.