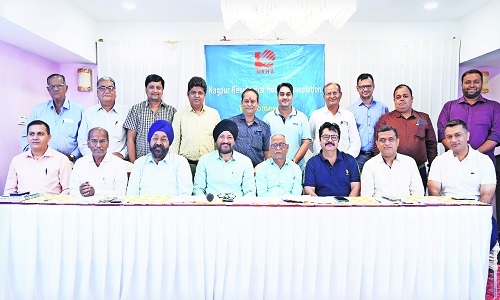 Business Reporter
Annual General Meeting (AGM) of Nagpur Residential Hotels Association (NRHA) was held RECENTLY at Hotel Orient Grand, wherein new team of THE BODY for 2023-25 was elected. Tejinder Singh Renu became President while Deepak Khurana, was elected Secretary. In addition to this Inderjeet Singh Baweja and Shatrughan Warambhe are new Vice Presidents; Vinod Joshi - Treasurer; Nitin Trivedi and Afzal Mitha - Joint Secretaries; and while Prakash Trivedi is IPP.
The new executive body members are Govind Mudliar, Santosh Gupta, Tarun Motwani, Mahesh Trivedi, Rishi Tuli, Ajay Jaiswal, Vasudeo Trivedi, Rajesh Dharmik, Shivam Gupta, Vijay Chaurasiya, Vishal Jaiswal, Sharique Hafiz, Tushar Khurana, Nitin Mehta and Hrishikesh Wachasunder. Audited accounts of NRHA for the year ended on March 31, 2023 were adopted and passed. M/s J S Uberoi & Co was appointed the statutory auditors for the year 2023-24.
On the occasion, Tejinder Singh Renu informed the members that a few hotels in Nagpur have received Industrial Status Certificate.