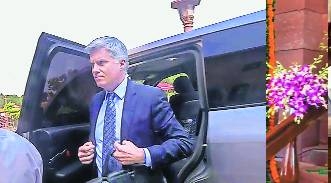 NEW DELHI :
The move came after Canada expelled top Indian diplomat and Canadian Prime Minister Justin Trudeau charged that India played a role in the June killing of Khalistani terrorist Hardeep Singh Nijjar
INDIA on Tuesday rejected as "absurd" and "motivated" Canadian Prime Minister Justin Trudeau's allegations of "potential" Indian links to the killing of a Khalistani separatist leader and expelled a senior Canadian diplomat in retaliation to Ottawa's expulsion of an Indian official over the case, in fresh strains to the bilateral ties. Canadian High Commissioner to India Cameron MacKay was summoned and informed about the decision to expel the senior official, with the Ministry of External Affairs (MEA) saying the move reflects New Delhi's growing concern at the "interference of Canadian diplomats in our internal matters and their involvement in anti-India activities."
In a strong reaction to remarks by Trudeau and the Canadian Foreign Minister, the MEA said such "unsubstantiated" allegations seek to "shift the focus from Khalistani terrorists and extremists, who have been provided shelter in Canada and continue to threaten India's sovereignty and territorial integrity." Though the MEA did not divulge the name of the Canadian diplomat who has been asked to leave India within five days, people familiar with the matter said it is the Canadian Intelligence agency's station chief in New Delhi Olivier Sylvestere. The Indian action to expel the Canadian diplomat came hours after Canada's Foreign Minister Mélanie Joly announced that a "top Indian diplomat" has been expelled from Canada in view of the alleged links to the killing of Hardeep Singh Nijjar, a Canadian Khalistani leader. He was shot dead by two gunmen in Surrey in June.