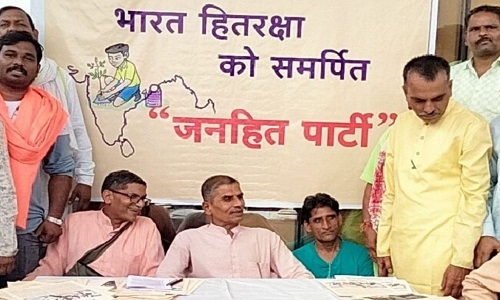 By Bhavana 'Aparajita' Shukla
Both Congress and the Bharatiya Janata Party swung into full action to win the Assembly election slated at the end of the year. At the same time, new political alternatives are emerging in the State's political horizons. Political pundits are sceptical about any major lead but do not deny the possibility of leaving an impact on election results, especially in saffron bastions like Malwa region. Aam Aadmi Party, Samajwadi Party, Bahujan Samaj Party etc. have announced to field candidates and affect results in northern parts of the State, specially seats adjacent to UP border. In this list, a new player Janhit Party has made its entry, but its impact may be confined to Malwa-Nimar and Madhya region not in terms of clinching seats but to affect vote share of party candidates.
Janhit Party leaders are holding rounds of meetings to chalk down strategy. They have held a meeting at Indore (saffron bastion). Although the new party is at its nascent stage, its members are veteran leaders as they have served as senior members of RSS and possess political acumen, said Aaseem Tiwari, senior journalist and political analyst, talking to 'The Hitavada'. Former RSS Pracharak and an eminent member of Janhit Party, Manish Kale has said, "With movement and campaign nothing can be achieved. That's why many leaders have left RSS and formed their own party named Janhit.
"I was RSS Pracharak from 1991 and participated in several movements between 2007-2021. I have been arrested. But then we felt that power does not understand the silence of democracy. We aim to break the duopoly of Congress-BJP politics in the State and want to offer a new alternative to the people, said former RSS Pracharak Manish Kale. Out of 230 seats, there are 127 MLAs from BJP and that of Congress is 96. As during by-polls, results went in favour of BJP. Number of independent candidates is 4 while that of BSP is 2 and SP has one MLA. After attending the meeting, Kale spoke to the media and he did not deny fielding candidates in these elections. He added "it is being felt by our group that to bring any substantial change in people's lives, there is a need to be in power. Both the parties Congress and BJP behave like birds of the same feather when they come into power.
They fight elections provoking emotional issues. Core issues of basic necessities like education and medical facilities take a back seat. If they would have given proper attention to medical facilities then why do health camps witness crowds? Education and health have become business". In 2018, Congress won the elections with a narrow margin and this time it seems that there will be a neck and neck fight. In such a scenario, the emergence of a new party may have an impact on a very few seats but may assume a significance . To form a government there will be a need of 116 seats.