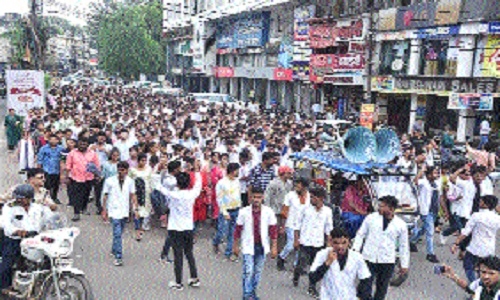 Staff Reporter
Paramedical Nursing students once again cleared their stand not to cast votes in the upcoming Assembly elections, if the State Government would not conduct their examinations. Following the same, the paramedical-nursing students from across the State, under the banner of Nursing Students' Organisation, India assembled at Civic Centre and took out a huge protest rally up to the Collectorate on Wednesday. However, observing huge gathering of students on their way to Collectorate, police interrupted them at Ghataghar Chowk. After verbal argument, police used water cannons and resorted to caning on students. As a result many students were injured.
Nursing Students' Organisation (NSO) strongly condemned the police action on the silent protest rally. Gopal Parashar, NSO District President, while talking to 'The Hitavada' said, "Stung with the partial attitude of the State Government, a large number of nursing students from different districts of Madhya Pradesh gathered in the city to raise their voice through a silent protest. But the district administration did not allow us to remain silent and used water cannons and lathicharge leaving many students injured." According to Parashar, students of B.Sc. Nursing, M.Sc. Nursing and Post Basic Nursing Students are waiting to appear in the examinations since 2020-21. The corrupt officials of the State Government issued affiliation to nursing colleges which did not fulfill fixed parameters, following which these colleges gave admission to students. The case of fake affiliation is in the court and students have to face the burnt.
Unfortunately, neither the State Government took any action against these corrupt officials nor did anything to provide relief to the suffering students. The Organisation demanded the State Government to immediately rectify the issue, provide scholarship to students and declaration of results of GNM students. On behalf of thousands of nursing and paramedical students, Gopal Parashar once again warned that neither the students nor their guardians will participate in upcoming elections if the State Government still maintains the same approach in the issue.