Senior officers turn a blind eye even as miscreants vandalise Govt School at Mendki twice in 15 days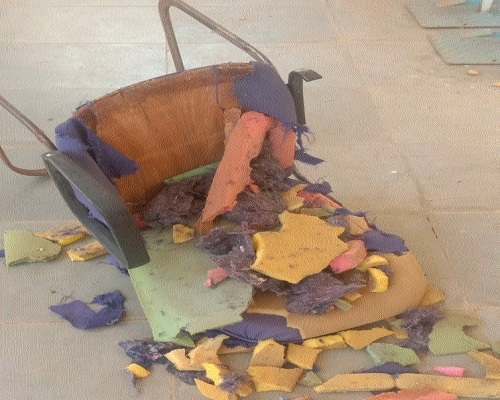 Our Correspondent
Waraseoni,
Miscreants vandalised the campus of Government Higher Secondary School at Mendki village panchayat, twice in last 15 days but still local police could not reach there to investigate the incident. School management had informed Rampayli police station, Block Education Officer District Education Officer, BRC office about both the incident but none of the officers visited the school to take stock of the incident.
It may be recalled that on September 4, 2023, materials and articles kept in the laboratory of the school was vandalised by some miscreants. Incharge Principal of the school was suspended some months back and hence in his place Vice-Principal Pratibha Gautam was given charge. On September 4, she was on leave and when that day classroom, laboratories were opened it was found that many articles were damaged in the laboratory rooms including LED TV, microscope, dissection materials, articles, library materials and some articles were missing also.
When school members searched for it, they found it lying outside the school campus in the backyard. The incident was reported to police and senior officers. Again, on September 17 night some miscreants entered the school and vandalised flower pots and cut down overflow pipeline of watertank and destroyed many articles. On September 18 at around 9:30 am, school peon Mahesh opened the school and found flower pots were broken, overflow pipe was cut, curtain rods of principal room, staff room, other rooms were broken, cable wire of camera number 2 was cut, chairs kept in the campus were broken. School Principal informed Rampayli police station and senior officers about it but even after two days nobody came to enquire into the incident. SHO, Rampayli, Sunil Banoriya informed that he had directed police to go to school and inquire into the matter but even after two days nobody has even visited the school.