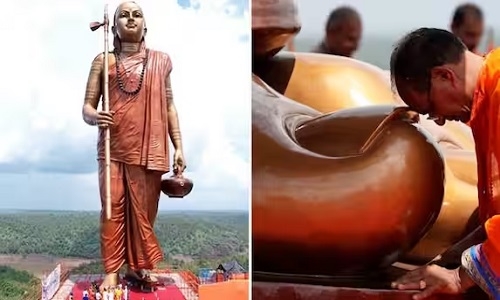 Staff Reporter
BHOPAL,
It was a proud moment for Madhya Pradesh as well as the entire country as Chief Minister Shivraj Singh Chouhan unveiled the Ashtadhatu 108-foot, tall 'Ekatmata ki Pratima' 'Statue of Oneness' of eighth century Hindu philosopher and saint Adi Shankaracharya in presence of religious gurus, saints and devotees in the holy land of Omkareshwar in Khandwa district of Madhya Pradesh on Thursday. This 108-foot statue is situated on the Mandhata Mountain in Omkareshwar. Located on the picturesque banks of the Narmada river, is around 80 km away from the city of Indore.
On this auspicious occasion more than thousand saints and sages gathered near the statue site where CM Chouhan performed bhoomipujan and laid the foundation stone of Advaita Lok to be built at a cost of Rs 2,200 crore.
Swami Avadheshanand Giri Maharaj, Parmatmanand, Swami Swaroopanand, Swami Tirthanand Maharaj, Minister in-charge of Khandwa district and Minister of Culture, Tourism, Religious Trust and Endowments, Usha Thakur, were present. CM Chouhan said, "The cultural foundation on which Adi Shankaracharya, who propounded Advaita Vedanta by seeing the existence of only one Brahma in every living being, united India in one thread, is his wonderful gift for every age." The statue weighs 100 tons which made by 88% copper, 4% zinc and 8% tin, 290 panels, 250 tones of high quality stainless steel has been used in the construction of the entire superstructure. This idol is installed on a 16 feet lotus made of stone and has a 75 pedestal from the base of the statue, the concrete pedestals are designed to last up to 500 years.