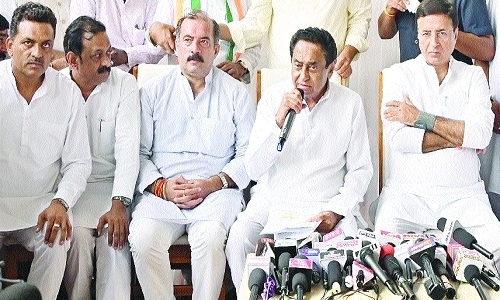 Staff Reporter
Former Chief Minister Kamal Nath in a scathing attack against the ruling BJP Government said people of Madhya Pradesh are eager to bid farewell to Chief Minister Shivraj Singh Chouhan. Nath accompanied by Congress State Incharge Randeep Singh Surjewala, accused the Shivraj Government of engaging in corrupt practices while addressing a press conference at Patan, on Thursday.
Kamal Nath said the BJP possesses numerous faces. It is crumbling, artificial, ornamental and adulterated. He said while Shivraj Singh indulges in gimmicks, Kamal Nath provides people with assurances. The MPCC President questioned that where is the State heading under BJP's leadership? Corruption has infiltrated every level, from panchayats to highest level of power. Further, Nath said although CM's machinery of deception is functioning at an accelerated pace, voters will not be misled this time around. He while quoting a report of Central Government alleged that it ranks Madhya Pradesh first in atrocities on women and tribal people.
Later, Randeep Singh Surjewala, Congress State In-charge, termed the BJP as anti-farmer. In response to a query regarding Chief Minister Chouhan's unveiling of a 108-feet tall statue of Adi Shankaracharya in Omkareshwar, Surjewala stated that the Congress welcomes the statue but urged CM Chouhan and the BJP to imbibe teachings of Shankaracharya. Surjewala said Adi Shankaracharya symbolises today's farmers. There are one crore young people searching for employment opportunities. Adi Shankaracharya represents the aspirations of the youth, tribal communities and Dalits who are currently enduring hardships and mistreatment.