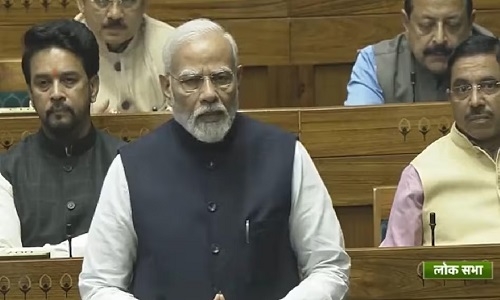 NEW DELHI,
A DAY after the Lok Sabha passed the Women's Reservation Bill with near unanimity, Prime Minister Narendra Modi on Thursday described its passage as a "golden moment" in India's parliamentary history and credited the leaders of all political parties and members of the House for the achievement. Soon after the Lok Sabha assembled for the day, Modi rose to make a brief statement, saying as the leader of the House, he wholeheartedly thanks the members for their contribution in the "sacred" task.
He said Wednesday's decision and the upcoming culmination in the Rajya Sabha will change the mood of "matrushakti" and the confidence that it will create will emerge as an unimaginable force for taking the country to new heights. "To accomplish this sacred task, I, as the leader of the House, have stood to acknowledge and express gratitude from the core of my heart for your contribution, support and meaningful debate," the prime minister told the Lok Sabha.
He said the credit for the passage of the key bill goes to every member of the House and the leaders of all political parties both inside and outside the House. The bill, which seeks to provide 33 per cent reservation to women in the Lok Sabha and State Assemblies, was passed by the Lower House on Wednesday evening after an eight-hour debate, with 454 members voting in its favour and two against it. The Constitution amendment bill was the first to be introduced and passed after parliamentary proceedings shifted to the new Parliament House on Tuesday afternoon.