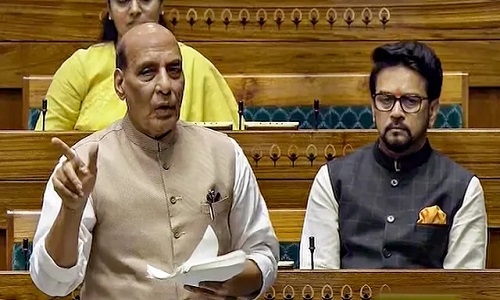 NEW DELHI,
DEFENCE Minister Rajnath Singh on Thursday said the 'Nari Shakti Vandan Adhiniyam', which will provide 33 per cent reservation for women in Lok Sabha and State Assemblies, is a gift by a grateful nation to the women scientists of space agency ISRO. Initiating a discussion in the Lok Sabha on the success of Chandrayaan-3 mission and other achievements of the nation in the space sector, Singh said of the 424 foreign satellites launched by India so far, 389 have been launched in the last nine years of the Government led by Prime Minister Narendra Modi. He said with the successful launch of foreign satellites, India's space sector is rapidly gaining a prominent place in the world. "This special session of Parliament is dedicated to the 'Nari Shakti Vandan Adhiniyam'. In such a situation, I consider the bill as a gift presented by a grateful nation to the women scientists of ISRO, and along with them the entire female scientific community of India," he said amidst thumping of desks by members. He said the House and the nation salute, appreciate, and express gratitude to the women scientists of ISRO, and every Indian daughter.
Eagerly waiting for lander, rover to wake up, SAYS Govt: ISRO scientists are eagerly waiting for the Vikram lander and the Pragyan rover of Chandrayaan-3 to wake up from their 14-day sleep during the lunar night, Union Minister Jitendra Singh said in the Lok Sabha on Thursday. "All efforts are being made to awaken Vikram and Pragyan from their sleep. When we sleep on earth tonight, Vikram and Pragyan will perhaps wake up on the Moon," Singh said, responding to a discussion on the Chandrayaan-3 lunar mission in the Lower House of Parliament. He said the solar batteries of the instruments have been charged fully and scientists are awaiting for the temperature on the lunar surface to rise for the wake-up call to be communicated to Vikram and Pragyan. Rijiju rebuts allegation of Rahul Gandhi: UNION Minister Kiren Rijiju on Thursday rebutted the allegations of Congress MP Rahul Gandhi that the Women's Reservation Bill lacked quota for Other Backward Classes (OBC) and stressed to focus on the facts.
Taking to 'X' Union Minister Kiren Rijiju wrote, "This is for Rahul Gandhi and I hope he can read and understand it. Rahul Gandhi and Congress have raised questions regarding OBC representation in Parliament. Whereas history presents a different story. Consider this: In 1992, the batch of secretaries currently serving in the Government of India began their journey. During that period the Congress Party remained in power for most of the time. Then why did they not pay attention to OBC representation?" Union Minister Rijiju asserted to focus on the facts. "Official records do not include anyone's OBC status. It is logical to ask for evidence, especially in light of the OBC background of our Prime Minister Narendra Modi. The history and work of Congress says a lot," he wrote on X. Rijiju wrote that India had an OBC Prime Minister leading a Government with a record-breaking 35 per cent OBC representation among Ministers. He further wrote, "In contrast, the Congress has no OBC Prime Minister in its history and has opposed OBC leaders like Charan Singh and Deve Gowda".