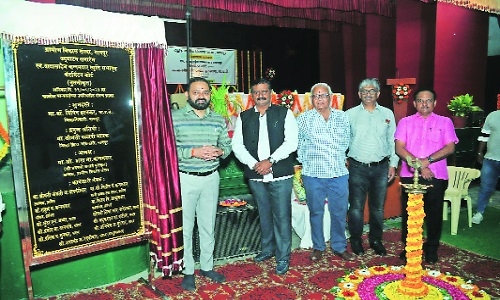 Sports Reporter
DISTRICT Collector Dr Vipin Itankar inaugurated three newly-refurbished badminton courts at Dadasaheb Kannamwar Sabhagruha. The courts are at campus of Village Uplift Society-run Annasaheb Gundewar College and Tidke Vidyalaya, Katol Road. The courts were built almost twenty years ago, have wooden flooring, and were in use for almost ten hours per day for seven days a week, such is the popularity of the sport. The wooden badminton courts, which were almost 20 years old, had worn out, and needed immediate upgrade.
Village Uplift Society decided to go for renovation and experts from Pune did the renovation work. The players' lounge (dugout), men and women changing rooms and toilets were also upgraded. LED floodlights were also installed.
Dr Itankar praised the institution for maintaining the sports infrastructure and emphasised on the importance of sports in students' life. Sharad Kannamwar, President Village Uplift Society, Dr Rahoul Kannamwar, Secretary, Anjali Pangantiwar, Vice-President, Sunder Iyer, Dr Vijay Akulwar, Leena Nageshkar, Reddywar, Abhishek Gundewar, Dr Sudhir Bhiwapurkar, Vijay Naidu, Behram Patel, Rajesh Datar (all VUS members), Dr Piyush Ambulkar, NMC Sports officer were present on the occasion.