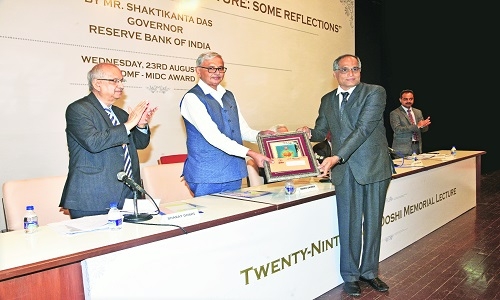 Business Bureau
Spacewood Office Solutions recently received MIDC's prestigious Lalit Doshi Memorial award for "Outstanding Performance 2022-23". Nitin Sudame, Founder Director - Spacewood Office Solutions, received the award from Manoj Saunik, Chief Secretary of Maharashtra, in the presence of Shaktikanta Das, Governor, Reserve Bank of India.
Spacewood Office Solutions (SOS) is India's most preferred office furniture brand with offices in all the major cities.
The company has a comprehensive product range of modular furniture for corporate offices, schools, colleges, hospitals, etc. The company has a proven track record with the supply of more than 11,000 workstations, and 9,000 projects executed for more than 3,000 customers.
Spacewood Office Solutions has been catering to leading corporates, IT/ITES companies, and manufacturing industries and has been associated with leading architects, PMCs, and design communities to meet their requirements.
All the products at SOS are made on state-of-the-art machines like laser cutting, robotic welding, and many more to ensure world-class quality products. Spacewood Office Solutions has also tied up with London-based renowned designer Tim Wallace.