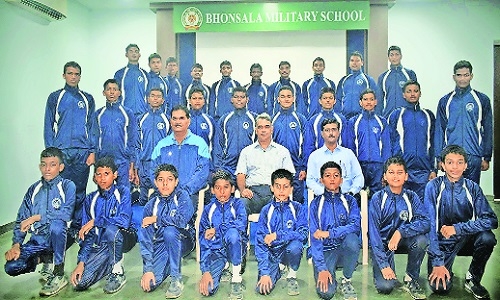 Sports Reporter
BHONSALA Military School (BMS) boxers displayed a scintillating performance as all the students made a podium finish in the recently held inter-school boxing competition organised by District Sports Office at Divisional Sports Complex, Mankapur. The boxers dominated the entire tournament and finished with 20 gold, five silver and three bronze medals. Total 28 boxers of Bhonsala Military School took part in the tournament in various age categories.
The medal winners include (Under-14) Manthan Kolhe (gold), Harshit Bhoyar (gold), Rohit Khairwar (gold), Rajdeep Rawal (gold), Aditya Ambulkar (silver), Kartik Mistri (bronze), Jagritsing Tomar (bronze).
Under-17: Sumit Bandebuche (gold), Mayank Vaidya (gold), Sujal Chaudhari (gold), Shailesh Bhaskar (gold), Ishan Uikey (gold), Adarsh Keche (gold), Rushikesh Thakare (gold), Toshi Khaire (gold), Aryan Yadav (silver), Agreem Koparekar (silver), Atharva Ghunghatkar (silver), Atharva Ranghbal (bronze). Under-19: Mohan Kongore (gold), Sarthak Barekar (gold), Samarth Gedam (gold), Rishi Sahu (gold), Saharsh Hatekar (gold), Likesh Yadav (gold), Dhruv Ghodkhande (gold), Devis Sahu (gold), Krishna Karnahake (silver). All the gold medal winners will represent Nagpur district in divisional-level championship. The boxers were coached by Sub Jagdish Dighe and Nitesh Patle. They owe their success to the facilities and guidance provided by the school management, Col Amarendra Hardas (Retd), Commandant, Ajay Shirke, Head Master and entire staff.