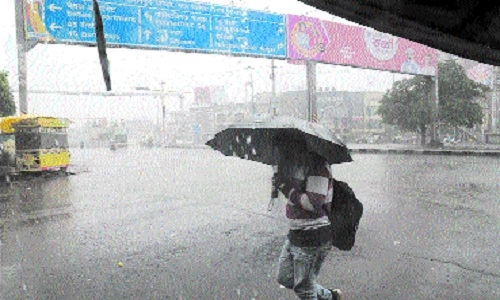 By Nupur Sengupta
With early mornings fresh cool breezes blown with showers which made the weather pleasant so the citizens heaved a sigh of relief after heavy rain lashed the city on Friday after sultry weather prevailed for past few days. On Friday afternoon, black clouds hovered over the city sky and soon it started raining. The prolonged dry spell during for past several weeks resulted in groundwater level going down and the open wells, ponds at many areas in the city going dry.Visitors thronged the lakes and enjoyed getting drenched in the showers. Roads in the city were inundated following the downpour and motorists and pedestrians had a tough time wading through the roads.
The locals are hopeful that the rainfall will continue, offering a reprieve from the heat and contributing to improved air quality in the region. Residents embraced the soothing showers, which help alleviate the sweltering heat, humidity and dust. While the rain brings relief, it also poses new challenges, such as water-logging and traffic disruptions. Some felt that after long break monsoon rain could have improved the ground water position at least marginally and a few more rains would ease the situation completely.
ABhopal Meteorological Centre's Scientist S N Sahu said that has issued an orange alert with warning of heavy rains and thunderstorms and lightning in Indore, Khargone, Badwani and Dewas, Jabalpur and Katni with a possibility of heavy to very heavy rainfall is very likely to prevail over these places during the next 12 hours with 115.6 mm to 160 mm rainfall, yellow alert for several districts as Vidisha, Sehore, Raisen, Bhopal etc. He said that two monsoon systems are currently active in the State. Another system will be active from the Bay of Bengal around September 10 to 12. Due to this, light to moderate rain will continue in the entire State. Rains are expected in the State from September 18 to 20. MP's Narsinghpur district has received more than 42 millimetres of rainfall, followed by Seoni with 38 millimetres of rainfall during the last 24 hours, as per the Met Department. Bhopal's maximum temperature recorded with 28 degrees Celsius and minimum was 24 degrees Celsius.