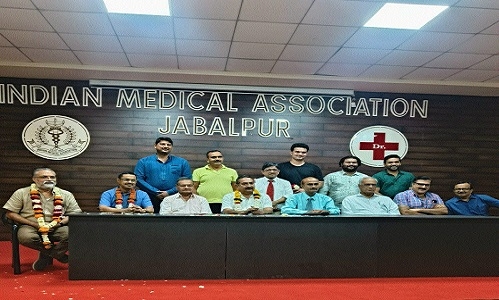 Staff Reporter
Dr Sunil Bahal was unanimously elected as President Elect of Indian Medical Association (IMA) Jabalpur branch for session 2024-25 during the election held on Friday. Simultaneously, Dr Abhijeet Mukherjee was nominated as Zonal President by the Election Officer, Dr Pushpraj Bhatele. Dr Bahal extended his gratitude towards all the members of IMA after being elected as President Elect and shared his workplan to work for the interest of patients during his tenure.
State President Dr Rakesh Pathak, Dr Arvind Jain, former National Vice-president, Dr Ajay Seth, former Jabalpur IMA President, Dr Rajeev Saxena, Dr Deepak Sahu, Dr Brajesh Choudhary, Dr Mukesh Nigam, Dr Rakesh Pathak, Dr D K
Tiwari, Dr Amrendra Pandey, Dr Nachiket Panse, Dr Shamil Raza, Dr Sparsh Nayak, Dr Abhijeet Vishnoi, Dr Neeraj Sethi and others congratulated Dr Bahal and Dr Mukherjee for their election. They also pledged to work together to further strengthen the Association.